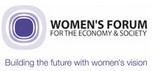 "Guilaume Caunègre is a speaker at the Women's Forum for the Economy & Society.
In the 2009 edition, Guillaume is speaking on « UNLOCKING HIGH PERFORMANCE AND WISDOM – A WOMAN'S ASSET FOR BALANCE & STRESS MANAGEMENT »
and  « GENERATE POSITIVE CHANGE FOR YOUR PERSONAL IDENTITY – EMPOWER YOURSELF AND RESTORE BALANCE WITHIN ».
Nathalie Wranken & Champagne Pommery are hosting Guillaume in the discovery programme with a unique coaching corner.
He spoke in 2008 on Brain performance at your business service IQ & EQ and on Womens health management for a better & longer business life.
In the 2009 edition, Guillaume will speak on Unlocking high performance and wisdom – a woman's asset for balance within".